YOU'RE
IN THE RIGHT
PLACE ︎


HOW TO CREATE A
COMMUNITY AROUND YOUR BRAND
AND MAKE MONEY
A.
WHY WORK WITH DENVIR ENTERPRISES?
––


To the world:

Here at Denvir Enterprises, it's of the utmost importance to practice inclusivity. As a queer female business owner, it is paramount to me for many reasons to work with a diverse group of clients, consultants, teammates, and brands. If we limit ourselves to certain perspectives, the outcome will be equally limited. If we explore a wide array of opinions, thoughts, and cultures, the more exciting and dynamic the results will be.
Inequality (racism, sexism, homophobia, transphobia, xenophobia, fatphobia, +) is systemic and inextricably intertwined within our economic system. As a for-profit business profiting from a capitalist economy, we vow to prioritize inclusivity in not only our hiring process but also in who we work with.

We are just getting started over here at Denvir Enterprises.
We are committed to fighting injustice and donating profits and our time to organizations that are dedicated to helping those that have suffered from the oppressive systems in the United States. Stay tuned as we develop our mission.


To the customer:


Here at Denvir Enterprises,
we work with a wide range of manufacturers in varying capacities. We choose our partnering vendors because we know that you the customer can't wait to meet them, hear their story and spec their product. Each brand brings something truly unique to the market in addition to being at the forefront of sustainability with eco-friendly practices.


Every brand we work with is contract grade and ready to outperform a home or resiliently exist for years in a commercial environment.
Lastly, we are territory free. It doesn't matter where in the world you are installing, we can help you source whatever you need. We love to work local and can help you find the best talent, whatever the zip code.
What we do best:
Circle the globe for the best manufacturers.
Anticipate your every need.
Ask you what products you can't find and make them.
Introduce each brand to you in fun & unexpected ways.
Answer your e-mails, calls, and text messages in unprecedented timeliness.
Create unforgettable experiences both on-line and IRL.
Pull the contract industry out of the dark ages.
To the manufacturer:
Here at Denvir Enterprises,
we work with a broad range of clients, offering diverse capabilities. The most important variables in these relationships are what you the manufacturer want to accomplish, what your brand needs, your budget and your timeline.
Our goal is to work with you and your team to build off of the great practices you already have in place and pivot when needed to keep your clients coming back for more of what you and only you, can offer.
We approach sales as one might approach making a new friend. We believe that the best business is created by developing meaningful relationships. Personally, my best relationships are full of shared interests, joint endeavors, respectful boundaries, inside jokes and intimate dinners. We believe that the relationship between a vendor and a client should replicate the precedent of successful friendships and partnerships. It can take months to develop a healthy friendship with someone, learn what makes them tick, what annoys them, etc. Why should sales be any different? We believe that investment in clients will create long-lasting relationships and result in high returns.
What we do best:
Capitalize on what you're doing right and get rid of the rest.

Streamline back of house and customer facing processes.
Pinpoint the essence of your brand and express it to the world.
Get to know your customer so you can anticipate their every want and desire.
Answer your e-mails and calls in unprecedented timeliness.
Ensure your product offering is in line with your target market.
Refresh your brand identity, if needed, while maintaining a timeless appeal.
Build a community around your brand that people want to be a part of.
Sell, sell, sell!
B.
THE GOODS.


––



Meet the Brands
(furniture & lighting)

Fyrn Fyrn hails from San Francisco and is steeped in so much wood working history their name means "ancient" or "of old." The Fyrn team worked on their patented furniture system, named Stemn, for four years before releasing it into the world. Their obsession with precision and quality has enabled Fyrn to invent a system of parts-and-pieces that creates a circular life span for their furniture, enabling parts to be not only replaced easily but also reused. Take a look at their seating, can you believe it flat packs?! We can't. That patented bracket also allows for their seating to be stronger, more flexible, and more durable than your standard wood seat.



Quick! Specifier need to know:

Fyrn products are produced on demand with a lead time of 6-10 weeks. All materials are sustainably sourced and certified — Fyrn can contribute to your LEED standards!

You can expect new and exciting products from Fyrn in 2021! We simply cannot wait. If you missed it above, we repeat, Fyrn furniture flat packs!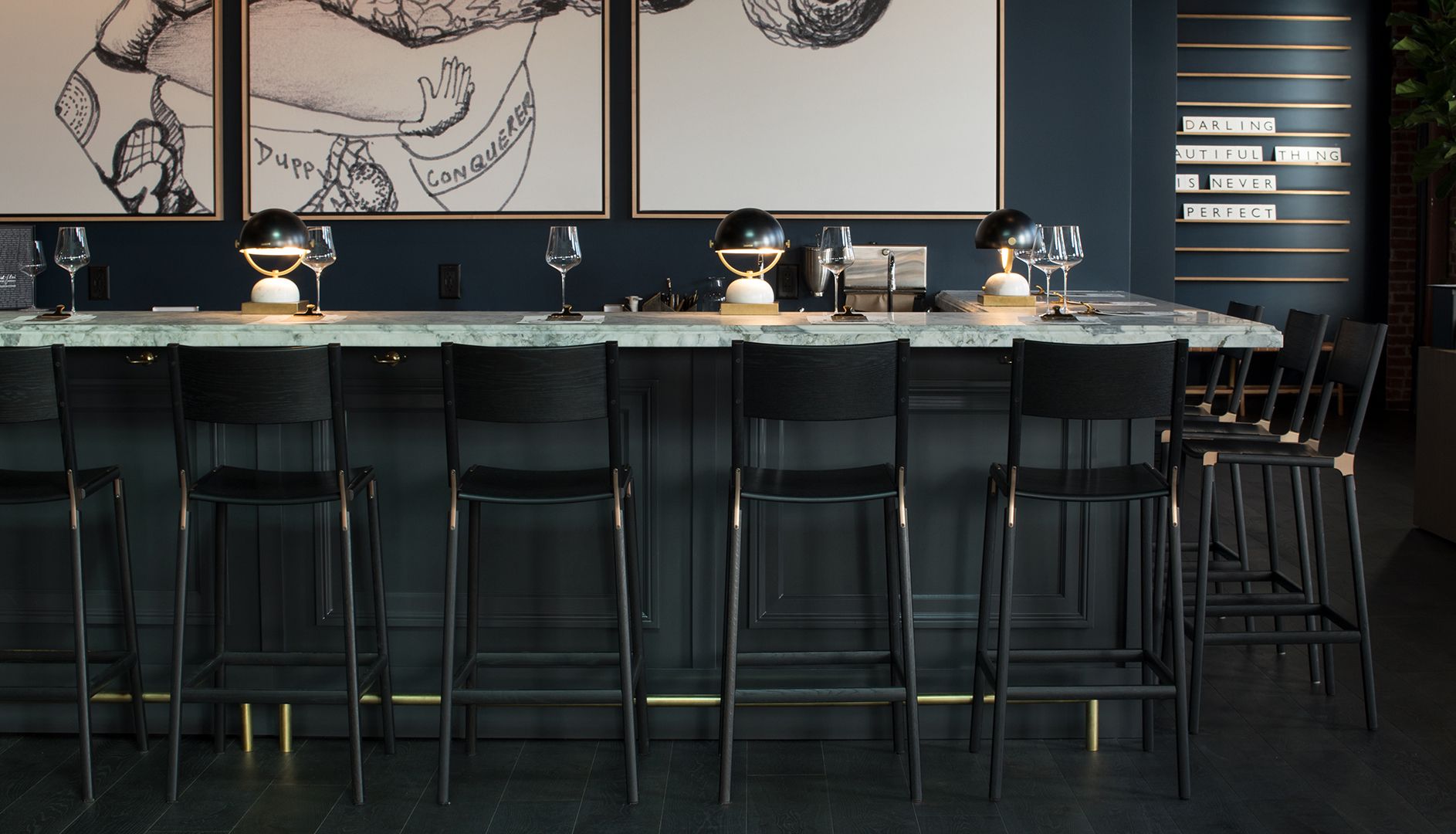 RAD
RAD furniture is not only based in Los Angeles but they also manufacture in Los Angeles! I love working with RAD not just because I love their product, but because they are fantastic people who strive to grow their company to employ more Angelenos and provide employees not only living wages, but enjoyable living wages and a healthy, fun work environment. I so appreciate the positive energy that RAD puts into the world. RAD is my go-to brand for steel furniture for both indoor and outdoor environments. I think of RAD as the UNIQLO of furniture — dependable staples in every color.



Quick! Specifier need to know:

All items are made to order in Los Angeles and take 6-8 weeks to produce. 99% of chairs & stools stack and can support upwards of 600 lbs (!).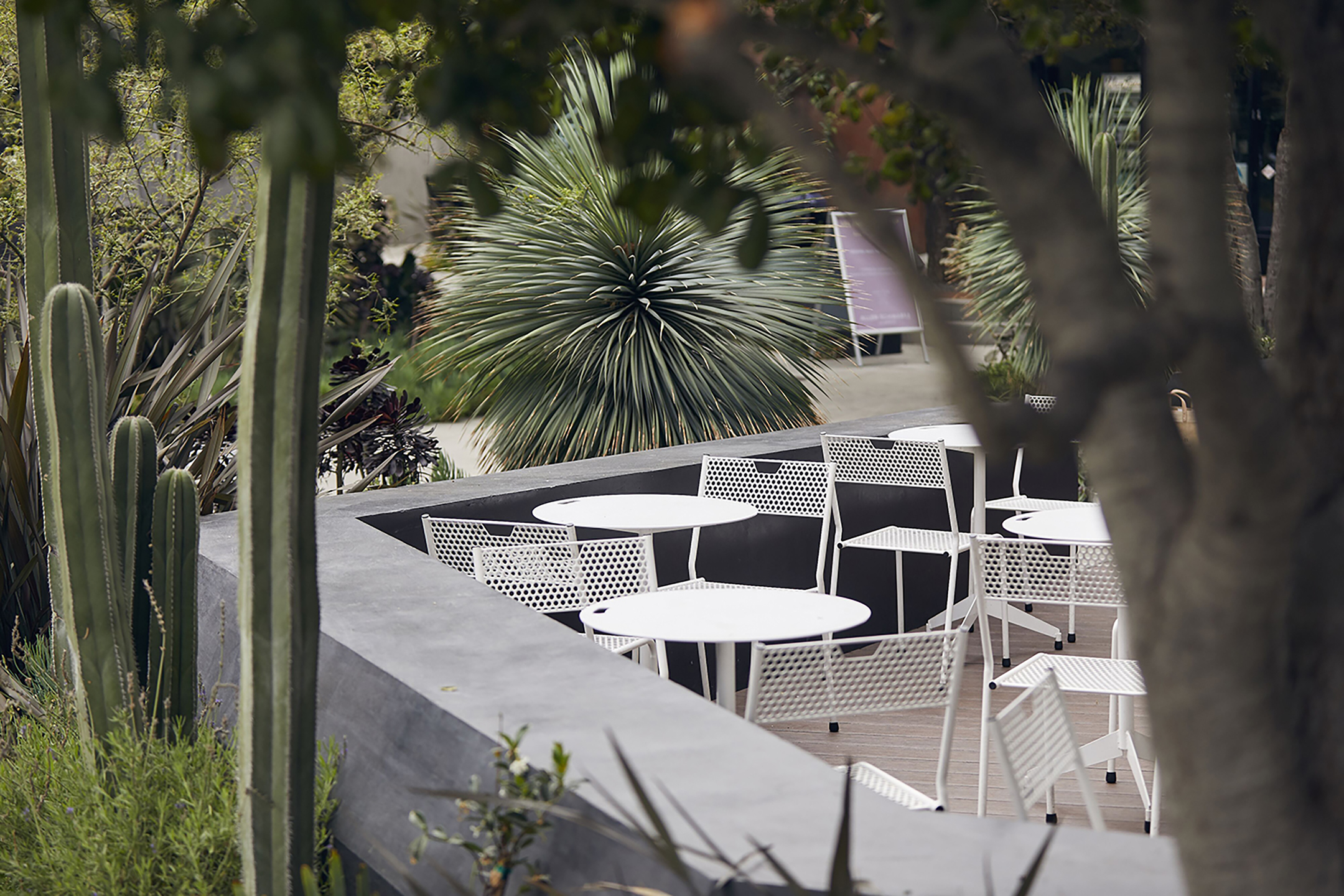 Shift
Shift hails from sunny Philadelphia, PA. The Shift studio is a multi-faceted entity — operating as architects, interior designers, and industrial designers. This mixture of minds and mediums results in the architecturally informed furniture they produce. Shift sources all materials domestically and fabricates all furniture within 300 miles of their hometown, resulting in a ridiculously low carbon foot-print. All furniture is made to order and designed for customization. Shift products are equally prepared to live indoors or poolside.



Quick! Specifier need to know:

All items are made to order in and around Philadelphia and take between 6-12 weeks depending on the product. All chairs stack.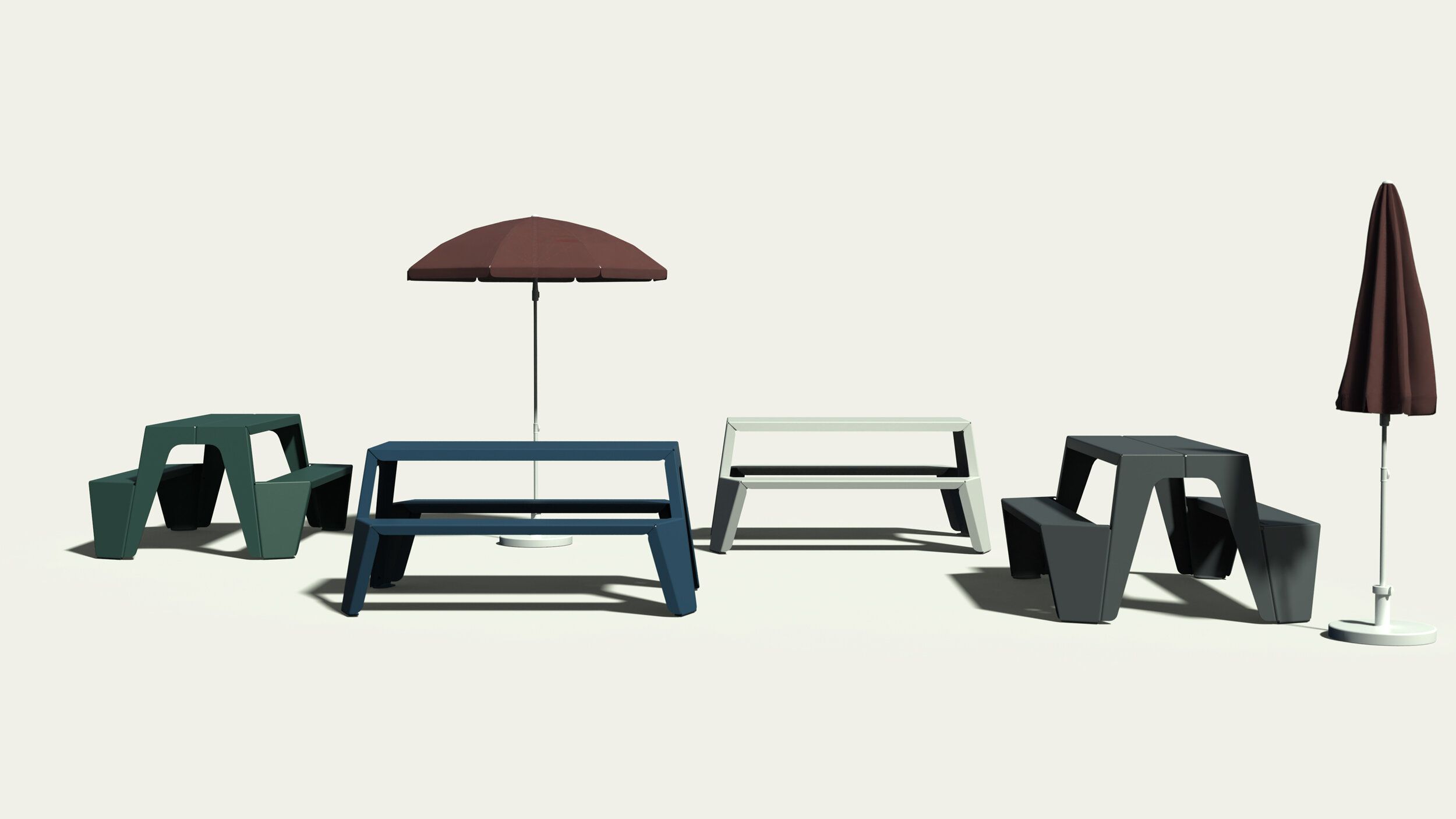 Gantri First and foremost, Gantri is a digital manufacturing platform. Gantri provides designers, many of whom are small businesses, the opportunity to produce lighting with little risk — there are no minimums with Gantri, on the designer side or the consumer side. Designers from all over the world have marketplaces on Gantri — providing a plethora of viewpoints and perspectives — offering lighting for any aesthetic and project type.

Each light is produced on demand and is 3D printed out of corn PLA, making them super sustainable and eco-friendly. All items are manufactured by a team of robits! Yes, ROBOTS, all named Dancer! Gantri has basically ZERO waste in their production facility. Now that's next level sustainability. Once Dancer does its job, the Gantri team cleans up the lights and assembles all of the UL listed parts to the lamp, getting the light ready for its time to shine.

Gantri is constantly evolving in their capabilities and offerings. You can expect new table lamps, floor lamps, and wall sconces pretty frequently. Keep your eyes pealed, you never know what's gonna come next.



Quick! Specifier need to know:

All items are made to order in San Francisco. Lead time is currently 6-8 weeks but with expanded manufacturing capabilities, we expect the pace to pick up and hit 4 weeks by the end of the summer. All parts are UL listed.
Looking for something Custom?
Need a custom banquette? Hand-made live edge conference table? Share your spec with us and we will see what we can do
︎
Meet the Brands (accessories)

In addition to the brands detailed below, we work with a network of local brands in Los Angeles and beyond. We are constantly expanding our roster and on the lookout for unique accessory brands to partner with that will make your project shine

︎

Let us know if you need help with your accessory program, we've got you covered

︎

bläanks
bläanks is a Los Angeles based manufacturer who produces all goods in the United States. They are your one-stop shop for all of your pillow and throw knit needs. Offering an ever evolving, shoppable collection as well as unique custom capabilities. Designers can pick & choose their yarns, colors and textures to design their own pillow or throw in 4-6 weeks! Last but not least, bläanks can create a private label program just for your brand.




Quick! Specifier need to know:

All items, standard and custom take 4-6 weeks to produce & ship. The majority of knits are machine washer & dryer friendly, again, WHAT!




Debbie Bean
Where do I start! Debbie's stained glass brings light, love, and imagination into any room, no matter the scale. DBSG works in all sizes, from a 6 inch sun catcher to a 15 foot installation. Whatever your idea, she can make it happen. The display below highlights the studio's skill and design in fused glass.



Quick! Specifier need to know:

DBSG always has items in stock and ready to ship. Give her some notice and your custom bulk order can be ready to go in just a couple of months.
Poketo
Poketo's philosophy is "Art for Your Every day." They bring intentionality and whimsy to quotidien objects that may otherwise go unnoticed. Poketo is your go-to spot for styling, accessories, and for that pop of color to brighten your desk or your day.

Quick! Specifier need to know:
Poketo stocks all of their items in Los Angeles and orders can ship out with 1 business day. The answer to your last minute acccessory dilema has arrived.

C.
OFFERINGS.
MEET THE TEAM.
––


Here at Denvir Enterprises,
we offer all of our advantageous services a-la-carte, in the form of short-term consultation. We are fans of low commitment with a high return. If you like what we offer, please keep coming back. Perhaps you are satisfied with your sales strategy but need a refresh — you're in the right place. Perhaps you have realized it's time to pivot from a focus on B2C and figure out B2B sales — you're definitely in the right place. Perhaps your sales are buttoned up but you'd like a fresh perspective for your next photoshoot, you're still in the right place.
Perhaps
, you need a new website, well... keep scrolling!
Let's. Make. Some. Money.


Business Development & Strategy with a touch of Communications & Marketing
Emma Holland Denvir
You may know Emma from her days at Hem. Emma was the first hire at Hem in the US and by the time she left, she was the Head of US Business Development. Under her guidance, their annual sales doubled & their US team expanded exponentially.

Prior to Hem, Emma was an interior designer for boutique firms in Los Angeles including Bishop Pass, House of Honey, and PaliGroup. Her time as an interior designer provided her with ample experience to understand how the vendor role should work to best suit the needs of the design industry.

Emma is also a woodworker and has extensive experience designing and creating her own furniture. Pulling from her interior + furniture design & construction background, Emma can intuitively anticipate the needs of a furniture specifier.

Emma's initiative for Denvir Enterprises is to creatively guide clients to practices that will develop an inspiring community around their brand and maximize profit.

Identity & Branding
Team Computer Pearl is a designer and brand strategist. She specializes in tapping into the persona or gut feeling she gets about a person, organization, or a company and helping them realize their visual aesthetic, sound of messaging, and overall positioning within their market. The process begins with crafting the brand strategy, followed by positioning statement, and user profiles. Using these tools, Pearl systematically develops the following outcomes: logo, messaging, templates, signage, visual media, website, and collateral.
Jumelles
Jumelles is a creative team led by two sisters, Melody and Gabriela Hansen. They blend their 10 years of expertise in art, film, music, and design to produce unique, eye-catching visuals from the ground up. Their services include branding and graphic design, creative + art direction, photo, illustration, and strategy.
Branding & Packaging Design
Melina SweetMelina is a multi-disciplinary designer specializing in branding & packaging design. With a technical background in printmaking, her aesthetic approach is purposeful and refined. Her work focuses on holistically building brands with a compelling story which is then distilled into thoughtfully crafted visual solutions. Projects are often collaborations that consist of brand identity, packaging, front-end web design, customer touch points, creative direction and brand development for local small businesses to national and global brands.
Web Design & Development
delilah pistolGabriel Brown is an art director, web designer and the founder of Delilah Pistol, a design studio based in Los Angeles, California. He specializes in Squarespace Design and Custom Development and approaches each project with distinct minimalism and a touch of fun. His studio Delilah Pistol offers web design/development, photography, art direction, branding, and overall creative strategy.

Social Media Management
QLEEN RelationsSharell is a professional social + digital marketing strategist and the founder of QLEEN Relations, an agency educating artists, creatives, and brands on maximizing digital growth by understanding the analytics of their audience and can leverage data to land sponsorships or partnerships with other brands, corporations, and influencers -- basically any opportunity that sees fit.

CV Site Works CV Site Works is a social media team led by Vanna Pilgrim and Christy Strickland. They work closely with your brand to understand voice and motivating factors in order to best represent your story in a way that feels true and authentic to who you are. Social has extended beyond just brand recognition and a portfolio of shoppable goods, and has become a matter of conveying your values and ethos, your purpose, and giving insight into your brand. Their team works to identify opportunities, engage with your audience and create targeted ads to current and new audience members, ultimately discovering valuable analytics that are imperative to your brand's growth while helping to build your best and most active followers.
* Due to the personal nature of our work clients remain anonymous.


Art Direction
Leah Ring of Another Human
Leah Ring is the founder of multidisciplinary design firm Another Human, where she executes her playful creative vision through products, interiors and photo shoots. With over a decade of experience in the design industry spanning commercial, hospitality, high end residential interiors and custom furniture, Ring has an acute sense for how to tailor creative deliverables to best communicate her clients' needs. The results are competitive, unique and precise demographic targeted visuals to catch the eye of her clients' consumers.
Creative Direction
Paige Geffen
Paige offers direction for photo shoots, campaigns, brand consultation, and aesthetic development. She specializes in thoughtful storytelling through both visuals and voice. Aesthetic and written communication can either be used together or individually, in order to convey strong and clear brand messaging. Her extensive background in interior design and on-set prop styling gives her a distinct viewpoint as a creative director. She works with people and companies who value and practice ethics, sustainability, intersectionality. and social justice.
Product Photography
Ryan Gould
Ryan Gould is a photographer based in Los Angeles. Ryan has always been fascinated with Vermeer's paintings. They embody quiet spaces and contemplative people; but the more he looked at Vermeer's paintings, the more he realized they aren't really about the subjects at all. They're studies of light, texture, objects, and their interactions. Drawing from Vermeer, Ryan applies a similar approach to photography. Light is applied to the extent that it emphasizes the object. Any more and the viewer is looking at a photograph. Ryan wants the viewer to look at the object within the photograph.
Interior Architecture & Lifestyle Photography
Lauren MooreLauren Moore is an interior architecture and lifestyle photographer specializing in hospitality and homes. With a background in interior design, she captures moments that convey the feeling and mood of her subject space, connecting the audience to an aspirational experience with focus on the way natural light illuminates it best.

Interiors & Environmental Portraits
Ye Rin Mok
Ye Rin Mok is a photographer based in Los Angeles. She's a regular contributor to magazines such as Apartamento, Architectural Digest, Brutus and WSJ. Some of her commercial clients include Building Block, CB2, Sonos and Vince. She enjoys photographing people in their environment, whether in their workspace or in their home. When she's not out photographing, she likes practicing yoga and working on her handstand.
Creative Portraits
Michelle Pullman
Michelle lives in an A-frame cabin in the Mt. Washington neighborhood of Los Angeles and loves exploring the city, mountains and sea with cameras and her dog Zoey. She loves shooting candids and catching people off guard, capturing true expression and emotion. In moments light and heavy and everything in-between, it's always about having fun.
D.
B2B BOOTCAMP.
––



B2B BOOTCAMP
I decided to put together a "B2B Bootcamp" because it was clear to me that understanding the A&D community is integral to the success of any brand that operates in the interiors industry. From 2013-2018, I was employed as an interior designer at boutique firms in Los Angeles including Bishop Pass, House of Honey, and PaliGroup. When I made the jump to the vendor side as Hem's first US employee, I was able to hit the ground running, armed with my knowledge of who the client was and what they needed, as I had personally been the client for years.

This presentation is a compilation of my experience and learnings, both as an interior designer and as the Head of US Business Development for Hem — it's a crash course in who your B2B client is, how they work, and how you, the vendor, fit in. While this industry is in dire need of an update, it's important for the vendor to understand how the industry operates before they can successfully implement changes and introduce their product or service.

We will cover the below topics +



● Purchasing behavior

● Industries within the industry / B2B clients

● How do you, the vendor, fit in your client's project timeline

● How different clients behave

● Procurement, Dealers, D2C

● Talk the talk

Click ︎ for pricing & to sign up.